A friend of mine, Melissa Leach and her business partner Cindy West will be at the Midwest Homeschool Convention starting tomorrow. Stop by their booth to see their gorgeous unit studies focusing on nature.
You can find them at booth # 1433
Their latest mini study is Nature Study Through the Holidays.  but they offer so much more.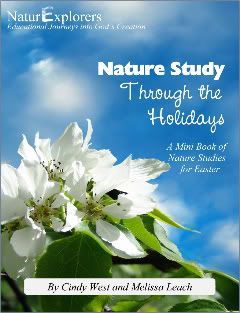 " This mini-unit gives you a fresh and exciting way to study the week leading up to Jesus' death, burial and resurrection.  Each of the main events of the week are tied together with clever nature study ideas sure to spark learning and bring your family closer to our Savior."
I've also heard there could be some fantastic giveaways, that you won't want to miss!
Have fun shopping!